How Compression Socks Can Help With Lymphedema
After going through chemotherapy treatments, many cancer patients will experience multiple side effects including a blockage of the lymph nodes that can result in swelling of the arms, legs, or both. According to the Mayo Clinic, this condition which is commonly referred to as Lymphedema is characterized by the following side effects:
Parts of the arms, legs, or fingers swell

A generalized aching in the legs or arms

A heavy or tight feeling in the legs or arms

A restricted range of motion
This chronic condition can negatively affect the patient's quality of life. If not treated, lymphedema can result in obesity, scar tissue, and lymphatic vessel infections. Therefore, doctors will often prescribe important custom lymphedema compression garments to gently apply pressure to the arms or legs which helps to keep fluids moving throughout the limbs. Patients are commonly prescribed graduated, custom lymphedema compression garments for either the legs or arms to increase blood flow through the vessels and reduce the symptoms of lymphedema.
COMPRESSION SOCKS AND LYMPHEDEMA
The gradual application of pressure to the legs or arms can increase the microcirculation of blood through vessels. While the body has a natural ability to transport excess fluid, the removal of or damage to your lymph nodes during cancer treatment can cause lymphatic system blockages. Since there is no cure for this condition, it is managed with a program of integrative care which may include:
Wearing the best compression socks for lymphedema

Acupuncture treatments 2 or 3 times per week

Nutritional support to reduce body weight

Specialized manual lymph drainage techniques
BEST COMPRESSION SOCKS FOR LYMPHEDEMA
Compression socks are already used to support long distance runners, athletes by providing relief from swelling. Also persons with varicose veins and DVT (Deep Vein Thrombosis). Here are tips for choosing the best compression socks for lymphedema that is occurring in the legs.
Choose medical grade compression stockings that are designed to increase blood flow and drain the lymph nodes of fluid

Speak with your medical professional about the compression level range that is right for your condition - mild support or firm compression

Select graduated compression that is very firm at the ankle and becomes less tight at the top of the sock for the best lymph flow

The type of compression socks you choose should not limit the body's natural movements or interrupt blood flow to the legs and feet
MEN'S COMPRESSION SOCKS FOR LYMPHEDEMA
Choose a store or online compression sock retailer that can supply compression garments to fit the calves and arms of men. Men may require compression socks in neutral tones to wear at the office and other during business meetings. Therefore, the socks should be lightweight, breathable, and comfortable enough to wear for eight hours or longer.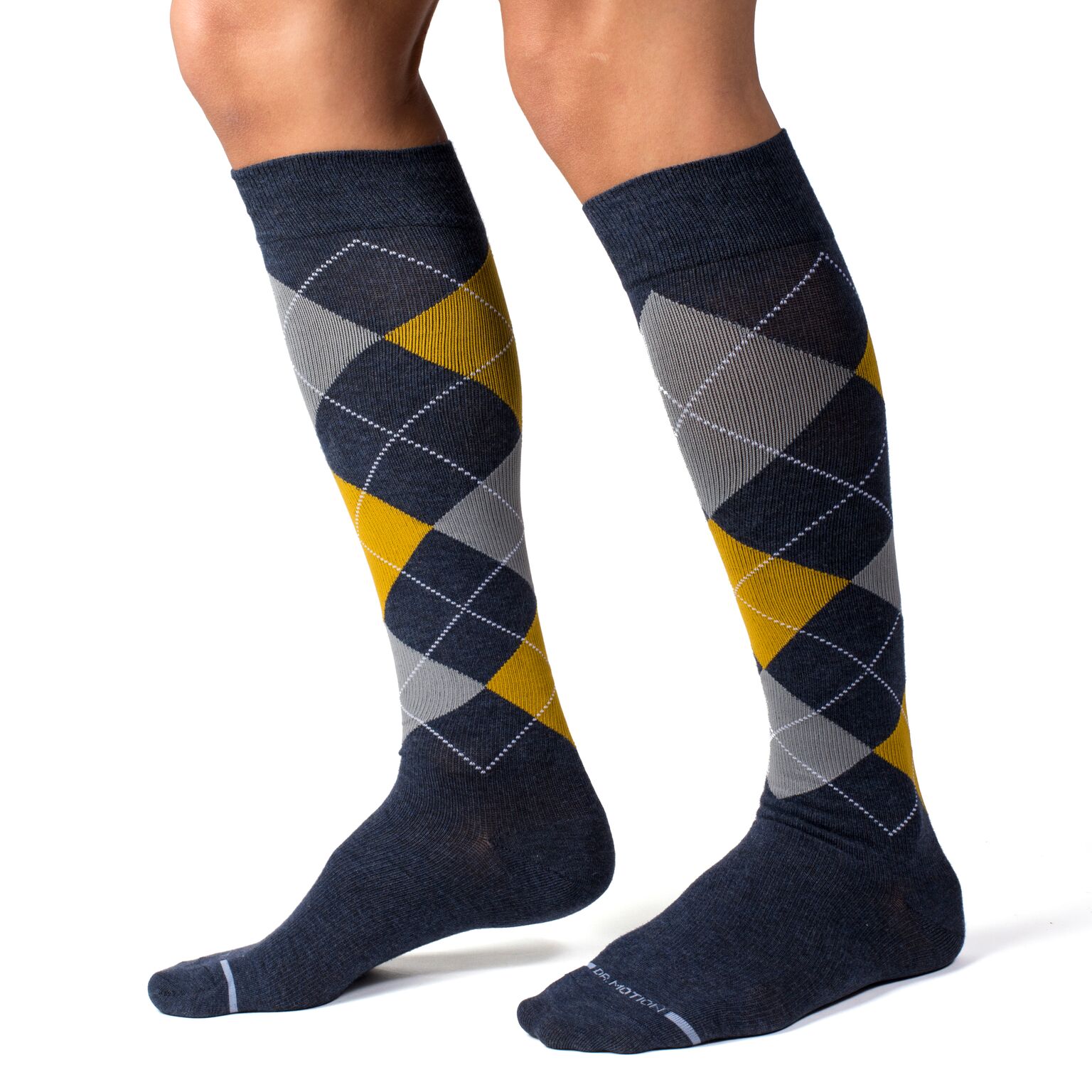 Also, men will have a longer calf region to cover, so buying a compression sock where one size fits all may not be appropriate. If the top of the compression garment doesn't rest right below the knee joint, it could result in restricting blood flow through the leg muscles and may cause pain in the legs. When men or women find compression socks to be irritating, they will take them off or not wear them. When treating lymphedema, your doctor may require you to wear the compression garments all day, except when going to bed.
TAKE-AWAYS
Lymphedema can be a side effect of cancer treatments that results in aching or heavy legs and/or arms

Arm or leg compression garments work by gently apply pressure and increasing blood and lymph flow

Speak with your medical professional about the compression level range
Dr. Motion offers a wide online selection of various styles of compression socks for lymphedema that can help alleviate associated symptoms. You can also find men's compression socks for lymphedema that are sized for larger calves, thicker ankles, and longer lower leg sections.
Disclaimer: This article provides information solely for educational purposes, including but not limited to text, graphics, images, and other materials contained herein. This article is not intended to substitute for professional medical advice, diagnosis, or treatment. Always seek the advice of your physician or another qualified healthcare provider with any questions you may have regarding a medical condition.
Why Nurses Need Compression Socks
Nurses are one of the great heroes of the medical community. If you are a registered nurse, you probably work long hours tending to your patients giving them the best care possible. Those who ne...
Read more